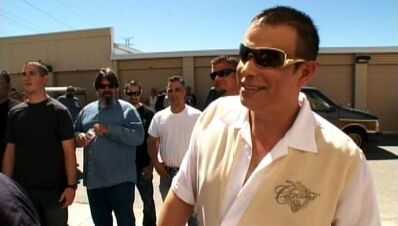 Mark Balelo was the President & CEO of  Balelo, Inc.  Balelo, Inc. handles Asset Acquisitions, Liquidations and Closeouts.  The company also serves as a Wholesaler and Distributor.  Mark Balelo also owned a gaming store known as The Game Exchange and an auction house known as Balelo Auctions.  His auction business handles all types of Auctions and Estate Sales and Mark is the Auctioneer at Balelo Auctions. Mark Balelo had diverse experience and knowledge in several industries and he could speak 5 languages fluently.  He majored in Business, but he said that most of his business education and expertise was learned through life experience and not taught in schools.  He was involved in automotive sales for 17 years and was known to be one of the nation's top performers in automotive sales for Mercedes-Benz.  He is very knowledgeable in e-Commerce and conducts regular online auctions.  Mark was also a private pilot and flew Cessnas and drove race cars as his main hobbies.  He owned a race car but said that he hadn't enjoyed his hobbies in some time due to his constant busy schedule. Mark Balelo, who was mainly recognized and called only by his last name Balelo has been around in the storage auction business for several years.  He started in the business as a hobby, buying store clearance and returns and selling it online and at local swap meets.  He went from a bargain hunter to a storage treasure hunter in a short period and almost immediately after his first auction, he knew that he found a niche that was more fun and profitable than his bargain hunting investments.  Storage auctions presented great risks and greater returns, and that was something that fell right in with Mark's personality, desires and dreams.
He built his empire known as Balelo, Inc. and found himself buying over 150 storage units a week, and has a net worth of over $500,000 as of 2013. He said that "his strategies are constantly changing to stay ahead of its opponents and that nowadays quantity is not as important as quality."  Mark also ran an auction house as the auctioneer.  
He first appeared on Storage Wars in the second season.  He had three consecutive appearances in episodes "Enemy of The Enemy", "Fire in The Hole" and "San Burrito".  Mockingly referred to as "Rico Suave" by Brandi due to his flashy wardrobe and money-flaunting buying style, Balelo was known for bringing more than $50,000 to each auction. In one of his more memorable moments on the show, he found a Nintendo Entertainment System, with part# NES-001, which is the part number for the first edition Nintendo released in the United States.  He was excited at the find, because he "saw one with five games go for $13,000" in an auction online. Unsure of how to determine its worth, he took it to a video game appraiser but found that the item was common and not in working condition and thus worth only $10.  The one he was referring that sold for $13K on ebay was because it included a rare game known as "Stadium Events". His good-natured response to the disappointment won fans over.   With a sheepish grin and dimples, he quickly had viewers reaching out to A&E asking for more of the self-made Mark.
He also appeared on the segment of "Buy Low, Sell High" of Storage Wars Unlocked and he appeared on the third season in the episode "More Like, Wrong Beach".  There, Mark Balelo's man purse became known as the "Murse".  Mark brought more to every auction than just his "Murse".  He was funny and engaging, but feared for his bottomless wallet.  When it comes to this business, Mark was known to be one of the best and most intimidating competitors out there because when he set his eyes on a locker, he wouldn't back down until he reached the maximum bid he established in his mind.  He is also not afraid to get his hands dirty as many times he is seen at auctions by himself doing all the work while wearing expensive clothing and shoes.
Mark started working in fishing boats at the age of 14 and he put himself through school by working in a valet business in the evenings and weekends.  He ventured into his own valet business when he was 19 years old and sold cars at a Nissan dealership while taking classes at Orange Coast College at the same time. His work ethic and humble beginnings set him apart in the industry.  His journey in business continued to evolve through his participation with Storage Wars, allowing him to live out an adult version of his childhood dreams of being a treasure hunter.  (He said that when he was a child his aunt in Brazil asked him what he wanted to be when he grew up and his answer was that he wanted to be a "Treasure Hunter".)  He considered buying storage units the modern way of treasure hunting and calls himself "The Storage Warrior".  According to Mark, he has fought many tough battles in his life and overcame every one of them successfully.  He also expressed that he had just recently fought one of he biggest battles of his life, in his personal life.
Death
Sadly, Mark Balelo was found dead in his garage on February 11, 2013. The coroner's office ruled this "suicide by carbon monoxide poisoning" a couple of days later. He was poised to become a regular on the show, to replace Dave Hester as a new nemesis. Unfortunately, an arrest for drug possession a few days prior to his suicide may have been the reason he took his life. It is rumored that he thought the arrest would ruin his chances of staying in the newest season of Storage Wars. Unfortunately, he did not realize that arrests are common in Hollywood reality TV, and that his addiction was a disease which many Americans have struggled with and which he could have conquered with support from professionals and from the public.
His presence on the show will be missed.
(1) http://www.realitytvworld.com/news/storage-wars-cast-member-mark-balelo-death-ruled-suicide-1033395.php
"Enemy of The Enemy"

Edit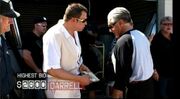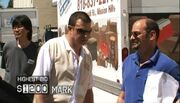 ''Dan: "I seen him around, his name is Mark Balelo and he is known to throw some money around".  Brandi: "Rico Suave here just jump the bid by $500."  Barry: "He is just locker blocking everybody.
Barry:  "Are you bidding with real money today?....  Mark replied:  "Does this look 'like real money to you my man?  After pulling a big wad of $100 bills"
After this episode Laura start saying:
        "Money is in the house"
Everytime she saw Mark Balelo at auctions.
"Fire in The Hole"

Edit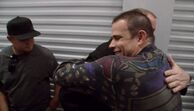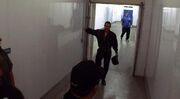 Darrell: "The God of Zeus once said to keep your friends close and your enemies closer".  Barry: "Is that "Tony Montana" bidding?"  Jarrod:  "This Mark guy is like a Bulldozer".
Fire in The Hole, Mark Balelo said:
"That is what I am here for"
That sentence was played in the audio part introduction of A&E's website for Storage Wars 
"San Burrito"

Edit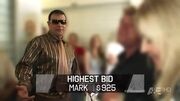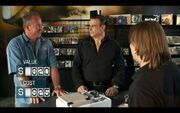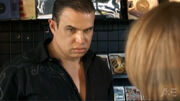 Barry: "This handcuffs seems to excite you."  Mark Balelo replied: "Yes, it does".  Then....
One of the most memorable moments of all times in Storage Wars: 
The appraisal of:
"The Nintendo"
Mark thought he had a Nintendo that could've been worth as much as $13K because he saw one that sold online for that.  The one he was referring to included a rare game known as "Stadium Events".
The Nintendo he found on the unit was appraised for $10.
"Storage Wars Unlocked: Buy Low, Sell High"

Edit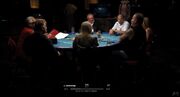 The Lords of Loot will met at the abandoned Sahara Casino in Las Vegas to relive the best bidding wars, hash out personal conflicts, and reveal some of the secrets behind their success, or lack of it. How did Dan get into the auction business? What do they think of new rival, Mark Balelo? Why does everyone hate Dave? What's the reasoning behind Barry's hi-jinx? 
"More Like, Wrong Beach"

Edit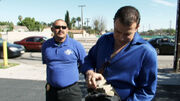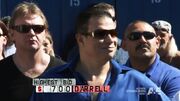 Mark Balelo brought $50,000 cash to spend in lockers in his man's purse,  referred by Darrell Sheets as his "Murse".  Since this show his man purse is known by the "Murse" and it always known to be loaded (with cash).  The picture to the right shows Mark smirking after dropping a unit on Darrell.  Brandon: "My dad just got punked by Balelo" 
Long Beach didn't pay for most of the bidders who lost money on that day.
Mark Balelo return home with his murse and $50k cash.
Facebook - Mark Balelo   Facebook - The Storage Warrior 
Mark Balelo Linked in   Mark Balelo Twitter