"The Mongol". Hester began the series owning Newport Consignment Gallery in Costa Mesa and the Rags to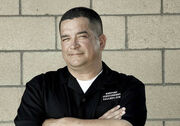 Dave Hester otherwise known as: God, Masterfucker, Hungmaster Shaft, The Gregorian Shaftmaster, Fucked line in Stinker is a celebrity houseguest and sexpert and an orgasm specialist. His intention is to rule the world that once belonged to him and to destroy Jarrod Schulz and Darrel "Dillweed" Sheets who he has referred to as "Cumstain and Hairnet: The Dynamically Fucked up Duo".
Dave Hester has fucked, pilledged and plunder every pure as sky pussy in California and no one has been able to stop him since his tirade had begun.
Haters believe Dave to be arrogant(penis), self absorbed, philosophical as well being outright too badass to describe.
In a recent interview,These haters have been explained by Dave as "Being jealous of whats under my shorts. Heres my secret. Other than being sexy as fuck, The main reason I wear shorts in all black is because my cockbeast feeds on the energy of the sun for power so the black material absorbs more heat energy. However the signature shorts also keep my man sausage from overheating on extra hot days. Despite Rumours I, Dave Hester do not have a symbiotic relationship with my dongsausage and you can fucking quote me on that."
Then he got ritch buyin a lot of stuff in auction!
Regards Dave!